Roll over image to zoom in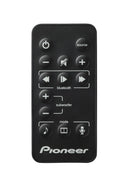 Free Shipping
30 DAYS TO RETURN OR EXCHANGE
AUTHORIZED DEALER
ORDERS BY 3PM EST SHIP TODAY
Amazon Qualifed Renewed Supplier
Description
Pioneer SP-SB23W Speaker Bar
 Features Include:
An amplifier for each speaker

Subwoofer is wireless

Use your favorite remote

Composite wood cabinet

Set-up is simple
Dedicated Power
Pioneer's SP-SB23W Speaker Bar is powered by six individual amplifiers— one for each independent driver. Each amplifier produces up to 28 Watts of power for increased audio dynamics and enhanced overall "headroom" at virtually any volume level.
speaker bar closeup
BASS MADE EASY
To handle the low frequencies, the Speaker Bar system includes a wireless subwoofer featuring a 6.5-inch driver that's powered by a built-in 50-Watt amplifier. Tuned to 42 Hz (-10 dB), the output level can be conveniently adjusted with a Speaker Bar remote.
COMMAND LEARNING
The last thing most people want is another remote control unit on the coffee table. That's why we gave the Speaker Bar system a special learning mode that lets you quickly teach it to respond to commands from virtually any remote you choose.
TRUE RESONANCE
Most sound bars on the market have enclosures made of plastic. Pioneer's Speaker Bar features a composite wood cabinet enclosure with a special curved design, helping it resist the "flexing" that can occur when the speakers are at high volume. With its superior resistance to undesirable resonance, composite wood provides more faithful sound reproduction.
EASY LISTENING
Immersive audio doesn't have to be complicated. Pioneer's Speaker Bar system is designed to make set-up simple. With minimal cables to connect and an easy synchronization process, you'll be enjoying a remarkable entertainment experience in just minutes.
ANDREW JONES DESIGNED
Crafted by legendary speaker engineer Andrew Jones to deliver excellent full-range sound from a small, simple solution audio package. As Pioneer's Chief Speaker Engineer, Andrew has designed multiple lines of award winning loudspeakers ranging in price from $99 to $80,000 a pair. He is considered an audio master in the industry.
Payment & Security
Your payment information is processed securely. We do not store credit card details nor have access to your credit card information.