Roll over image to zoom in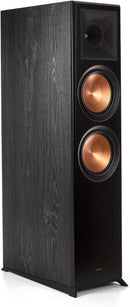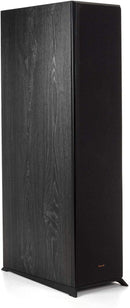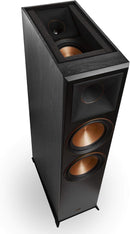 Free Shipping
30 DAYS TO RETURN OR EXCHANGE
AUTHORIZED DEALER
ORDERS BY 3PM EST SHIP TODAY
Amazon Qualifed Renewed Supplier
Description
The Klipsch RP-8060FA II Dolby Atmos Floorstanding Speaker is a high-end audio solution that takes your home theater experience to new heights. Here are its key features:
Dolby Atmos Integration: This speaker incorporates a built-in elevation channel that directs sound upward, allowing it to bounce off the ceiling to create a three-dimensional, overhead soundstage, ideal for Dolby Atmos and DTS:X content.

Exceptional Sound Quality: The RP-8060FA II features Klipsch's renowned horn-loaded technology and proprietary Tractrix horn tweeters, delivering crystal-clear highs, lifelike mids, and powerful bass.

Dual 8-Inch Spun Copper Woofers: Two 8-inch spun copper woofers provide deep, precise, and impactful bass for a cinematic audio experience.

High-Resolution Audio: Designed to faithfully reproduce high-resolution audio formats with incredible detail and accuracy.

Sleek and Modern Design: The speaker boasts a stylish and contemporary design that seamlessly fits into any home decor.

Premium Build Quality: Crafted with premium materials and precision engineering for durability and long-lasting performance.

Flexible Placement: Its floorstanding design allows for versatile placement in your room, creating a wide and immersive soundstage.

Bi-Wire/Bi-Amp Capable: Equipped with dual binding posts, enabling bi-wire or bi-amp configurations for audiophiles looking to fine-tune their sound.

Magnetic Grilles: The removable magnetic grilles provide a clean, refined appearance while protecting the speaker drivers.

High Sensitivity: With a high sensitivity rating, the RP-8060FA II efficiently converts amplifier power into clear and dynamic sound, making it compatible with a range of AV receivers.
The Klipsch RP-8060FA II Dolby Atmos Floorstanding Speaker represents the pinnacle of audio excellence for home theater enthusiasts. Its premium components and design ensure a cinematic audio experience that elevates your movie nights, gaming sessions, and music listening to a whole new level. If you're seeking uncompromising sound quality and Dolby Atmos immersion, this speaker is a standout addition to your home audio setup.
Payment & Security
Your payment information is processed securely. We do not store credit card details nor have access to your credit card information.