Roll over image to zoom in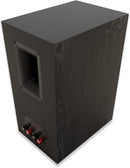 Free Shipping
30 DAYS TO RETURN OR EXCHANGE
AUTHORIZED DEALER
ORDERS BY 3PM EST SHIP TODAY
Amazon Qualifed Renewed Supplier
Description
The Klipsch RP-600M II is a powerful bookshelf speaker that delivers remarkable sound quality and versatility. Here are its key features:
High-Performance Drivers: The RP-600M II features advanced drivers, including a horn-loaded tweeter and a woofer, producing precise and dynamic sound across the frequency range.

Horn-Loaded Technology: Klipsch's proprietary Tractrix horn technology enhances efficiency and directs sound with precision, providing a wide and immersive soundstage.

Cabinet Design: The speaker's MDF cabinet is designed to minimize vibrations and resonance, ensuring clean and uncolored audio reproduction.

Modern Aesthetics: With a contemporary design and durable finish, it complements a range of interior styles and audio setups.

Bi-Wire/Bi-Amp Capability: The RP-600M II supports bi-wire and bi-amp configurations for more advanced audio systems.

Magnetic Grilles: The removable magnetic grilles offer a clean and polished appearance while protecting the speaker's components.

Flexible Placement: Compact and versatile, these bookshelf speakers can be placed on stands, shelves, or mounted to walls to suit your room layout.

Impedance: With a compatible impedance rating, they can be easily integrated into various audio systems.
The Klipsch RP-600M II Bookshelf Speakers are an excellent choice for audiophiles and home theater enthusiasts who demand exceptional audio quality. The combination of high-performance drivers, horn-loaded technology, and quality cabinet construction ensures that these speakers deliver a rich and immersive listening experience for both music and movies.
Payment & Security
Your payment information is processed securely. We do not store credit card details nor have access to your credit card information.