Roll over image to zoom in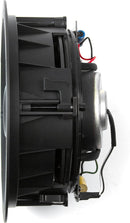 Free Shipping
30 DAYS TO RETURN OR EXCHANGE
AUTHORIZED DEALER
ORDERS BY 3PM EST SHIP TODAY
Amazon Qualifed Renewed Supplier
Description
The Klipsch Reference CDT-5650-C II is a versatile in-ceiling speaker designed to deliver exceptional audio performance while seamlessly blending into your home's decor. Here are the key features:
High-Quality Sound: These speakers are engineered to provide clear, dynamic, and immersive sound for music and home theater applications.

Rotatable Tractrix Horn: Klipsch's signature horn-loaded technology allows you to direct the audio precisely where you want it, optimizing sound dispersion.

Dual Tweeters: The dual tweeters, each equipped with a 1-inch aluminum diaphragm compression driver, enhance high-frequency sound reproduction for detailed and lifelike audio.

Cerametallic Woofer: The 6.5-inch Cerametallic woofer is lightweight yet rigid, allowing for deep bass response and minimal distortion.

Adjustable Design: The speaker's tweeters can be pivoted and rotated, enabling you to focus sound where you need it most.

Easy Installation: The SecureFit Installation System ensures a hassle-free and secure fit, whether you're installing them in new or existing construction.

Paintable Magnetic Grille: The magnetic grille can be painted to match your ceiling, seamlessly integrating with your room's aesthetics.

Wide Dispersion: These speakers offer a wide dispersion pattern, making them suitable for various audio applications, from background music to home theater setups.

Moisture-Resistant: They are moisture-resistant, allowing installation in bathrooms, kitchens, or other humid environments.
The Klipsch Reference CDT-5650-C II In-Ceiling Speakers are a top choice for those seeking premium sound quality and flexibility in installation. Their rotatable horn technology, dual tweeters, and adjustable design ensure that you can customize your audio experience to suit your room's layout, making them perfect for both music and home theater enthusiasts.
Payment & Security
Your payment information is processed securely. We do not store credit card details nor have access to your credit card information.