Roll over image to zoom in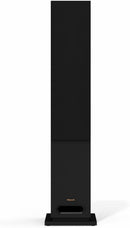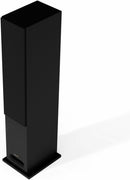 Free Shipping
30 DAYS TO RETURN OR EXCHANGE
AUTHORIZED DEALER
ORDERS BY 3PM EST SHIP TODAY
Amazon Qualifed Renewed Supplier
Description
The Klipsch KD-52F is a floor-standing loudspeaker designed to deliver exceptional audio performance with a focus on clarity and depth. Here are its key features:
High-Resolution Audio: The KD-52F is engineered to reproduce high-resolution audio, ensuring that every detail in your music is faithfully reproduced.

Dual 5.25-Inch Woofers: The speaker features dual 5.25-inch woofers that provide powerful and punchy bass response for an immersive listening experience.

1-Inch Tweeter: The 1-inch tweeter is designed to deliver clear and crisp high frequencies, adding brilliance to your music.

Tractrix Horn Technology: Klipsch's proprietary Tractrix horn technology helps to reduce distortion and improve overall audio clarity.

Front-Firing Port: The front-firing port design enhances bass output and allows for flexible placement in your room.

MDF Cabinet: The speaker is housed in a sturdy MDF cabinet that minimizes resonance and vibration, ensuring clean and natural sound.

Sleek Design: The KD-52F features a modern and elegant design that complements any home decor.

Bi-Wire/Bi-Amp Capable: The speaker has terminals for bi-wiring or bi-amping, giving you flexibility in your audio setup.

Easy Placement: The slim profile of the KD-52F allows for easy placement in your home theater or audio setup.

Sensitivity: With high sensitivity, this speaker can achieve impressive volume levels with lower power inputs.
The Klipsch KD-52F floor-standing loudspeaker is a testament to Klipsch's commitment to delivering high-quality audio. Whether you're enjoying music, movies, or gaming, these speakers provide an immersive and detailed audio experience that's sure to impress audiophiles and home theater enthusiasts.
Payment & Security
Your payment information is processed securely. We do not store credit card details nor have access to your credit card information.