Roll over image to zoom in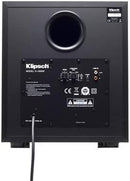 Free Shipping
30 DAYS TO RETURN OR EXCHANGE
AUTHORIZED DEALER
ORDERS BY 3PM EST SHIP TODAY
Amazon Qualifed Renewed Supplier
Description
The Klipsch K-100SW is a powerful subwoofer designed to enhance your audio experience with deep and impactful bass. Here are its key features:
Dynamic Power: With a peak power of 250 watts, the K-100SW delivers a dynamic and room-filling bass response, adding depth to your music, movies, and games.

10-Inch Spun-Copper Woofer: The subwoofer features a 10-inch front-firing spun-copper IMG (injection-molded graphite) woofer. This material is lightweight yet rigid, allowing for impressive low-frequency response.

All-Digital Amplifier: The built-in all-digital amplifier ensures efficient and accurate power with minimal distortion, providing a clean and powerful bass performance.

Bass-Reflex Enclosure: The subwoofer is housed in a durable MDF cabinet with a front-firing port, optimizing airflow and reducing turbulence for a cleaner, more articulate low end.

Low Pass Crossover and Phase Control: The adjustable low pass crossover and phase control enable you to fine-tune the subwoofer to seamlessly blend with your existing speaker system.

Line/LFE Inputs: The K-100SW offers both line-level and LFE (Low-Frequency Effects) inputs, providing flexibility in connectivity with a variety of audio systems.

Compact Design: The subwoofer's compact design allows for versatile placement in your room, while its black textured wood grain vinyl finish adds a touch of elegance.

Front-Mounted LED Power Indicator: The front-mounted LED power indicator provides visual confirmation of the subwoofer's status.

Easy Integration: Whether you're building a new audio system or upgrading an existing one, the K-100SW is designed for easy integration and is compatible with a wide range of speakers.

Klipsch Signature Acoustics: Benefit from Klipsch's renowned audio engineering and acoustics, ensuring high-performance bass reproduction.
The Klipsch K-100SW subwoofer is an excellent addition to any home theater or audio system, delivering deep, powerful bass that enhances your overall listening experience. Whether you're enjoying music, movies, or games, this subwoofer adds a new dimension to your audio content.
Payment & Security
Your payment information is processed securely. We do not store credit card details nor have access to your credit card information.