Roll over image to zoom in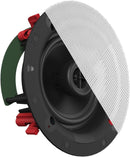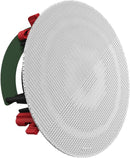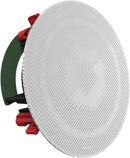 30 DAYS TO RETURN OR EXCHANGE
AUTHORIZED DEALER
ORDERS BY 3PM EST SHIP TODAY
Amazon Qualifed Renewed Supplier
Description
The Klipsch DS-160CDT is a high-quality in-ceiling speaker that combines performance and aesthetics for an immersive audio experience. Here are the key features:
Detailed Sound: These speakers are engineered to deliver clear and detailed audio, making them ideal for both music and home theater applications.

Dual Voice Coil Design: The dual voice coil design allows you to use a single speaker for stereo sound, providing versatile sound distribution.

Wide Dispersion: These speakers offer a wide and even sound dispersion, ensuring that you can enjoy your audio from various seating positions.

Paintable Magnetic Grille: The magnetic grille can be painted to match your ceiling, seamlessly blending into your room's decor.

Easy Installation: The speaker's SecureFit Installation System simplifies the installation process, whether it's in new construction or retrofitting.

Moisture-Resistant: These speakers are moisture-resistant, making them suitable for bathrooms, kitchens, or other humid environments.

Professional-Grade Build: The Klipsch DS-160CDT is built to last, featuring high-quality construction that can withstand continuous use.

Rotatable Design: The speaker's pivotable tweeters can be aimed to direct sound precisely where you want it, optimizing your listening experience.
The Klipsch DS-160CDT In-Ceiling Speaker is a versatile audio solution that provides detailed and immersive sound for a wide range of applications. Its dual voice coil design, wide dispersion, and rotatable features make it an excellent choice for those seeking flexibility in their audio setup while maintaining a sleek and unobtrusive appearance in their living space.
Payment & Security
Your payment information is processed securely. We do not store credit card details nor have access to your credit card information.