Roll over image to zoom in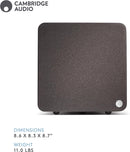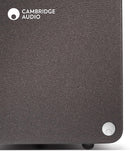 Free Shipping
30 DAYS TO RETURN OR EXCHANGE
AUTHORIZED DEALER
ORDERS BY 3PM EST SHIP TODAY
Amazon Qualifed Renewed Supplier
Description
Introducing the Cambridge Audio MINX X201 Subwoofer, a compact yet powerful addition to your audio setup. Here are the included features:
Deep and Punchy Bass: The MINX X201 is designed to deliver deep and impactful bass, enhancing your audio experience and adding depth to your music, movies, and games.
Compact Design: With its compact size, the X201 can easily fit into small spaces, making it ideal for apartments, bedrooms, or any room where space is limited.
200-Watt Amplifier: Equipped with a powerful 200-watt amplifier, this subwoofer ensures clear and dynamic bass reproduction, filling your room with rich and immersive low-frequency sound.
Advanced Driver Technology: The X201 features a custom-designed 6.5-inch driver with an ultra-long throw, allowing it to move more air and produce deep bass with minimal distortion.
Flexible Placement Options: Thanks to its compact size and down-firing driver, the X201 offers flexible placement options. It can be positioned horizontally or vertically to suit your space and preferences.
Adjustable Crossover and Phase Control: Customize the subwoofer's performance to match your existing speakers and room acoustics using the adjustable crossover and phase controls.
Auto Power On/Off: The X201 has a built-in auto power on/off feature, automatically turning the subwoofer on when an audio signal is detected and off when the signal is absent, conserving energy.
Easy Integration: Connect the X201 to your audio system effortlessly using the line-level inputs, making it compatible with a wide range of amplifiers and receivers.
The Cambridge Audio MINX X201 Subwoofer combines compact size with powerful bass performance, making it an excellent addition to any audio setup. With its advanced driver technology, flexible placement options, and adjustable controls, you can tailor the subwoofer's performance to suit your preferences and room acoustics. The X201's compact design and auto power on/off feature ensure convenience and energy efficiency. Enhance your audio experience and feel the impact of deep bass with the Cambridge Audio MINX X201 Subwoofer.
Payment & Security
Your payment information is processed securely. We do not store credit card details nor have access to your credit card information.