Roll over image to zoom in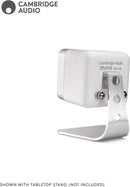 Free Shipping
30 DAYS TO RETURN OR EXCHANGE
AUTHORIZED DEALER
ORDERS BY 3PM EST SHIP TODAY
Amazon Qualifed Renewed Supplier
Description
*Table-Top Stand not included.
Introducing the Cambridge Audio Minx Min 12, a compact and versatile speaker that delivers impressive sound quality. Here are the included features:
Compact Design: The Minx Min 12 is designed to be compact and unobtrusive, making it easy to fit into any room or space without compromising on sound quality.
Balanced Mode Radiator (BMR) Technology: The speaker utilizes BMR technology, which allows it to produce a wider frequency response and a more immersive soundstage compared to traditional speakers.
Wide Sound Dispersion: With its BMR driver, the Minx Min 12 offers a wide sound dispersion, ensuring that the sound remains consistent regardless of your listening position.
Versatile Placement Options: The Minx Min 12 can be placed on a shelf, mounted on a wall, or even used as a surround speaker. Its compact size and versatile mounting options make it suitable for any setup.
Quality Construction: The speaker is constructed with high-quality materials to ensure durability and optimal performance. The precision-engineered cabinet minimizes resonances, delivering clean and accurate sound.
Wide Frequency Response: The Minx Min 12 covers a wide frequency range, reproducing both high and low frequencies with clarity and detail.
Compatibility: The speaker can be used as part of a stereo setup or as part of a surround sound system. It is also compatible with most amplifiers and AV receivers.
Sleek and Modern Design: The Minx Min 12 features a sleek and modern design that blends seamlessly with any decor, adding a touch of elegance to your audio setup.
The Cambridge Audio Minx Min 12 offers impressive sound quality in a compact and versatile design. With its BMR technology, wide sound dispersion, and wide frequency response, it delivers immersive and detailed audio. The speaker's versatility in placement options, compatibility with various setups, and sleek design make it an ideal choice for both music and home theater applications. Upgrade your audio experience with the Cambridge Audio Minx Min 12 and enjoy rich, dynamic sound from a compact and stylish speaker.
Payment & Security
Your payment information is processed securely. We do not store credit card details nor have access to your credit card information.