Roll over image to zoom in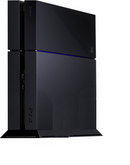 Free Shipping
30 DAYS TO RETURN OR EXCHANGE
AUTHORIZED DEALER
ORDERS BY 3PM EST SHIP TODAY
Amazon Qualifed Renewed Supplier
Description
SONY PLAYSTATION 4 500GB CONSOLE - "A" GRADE
This item qualifies for Free Shipping!
Console and Power Cable only. No Stand, or Controller included.
Incredible Games. Endless Entertainment. Introducing the PlayStation 4. 500GB hard drive. All the greatest games, TV, music and more
CONDITION DESCRIPTION
All units are thoroughly tested and fully functional, regardless of Grade chosen. Grading is purely cosmetic.
A Grade- Excellent overall condition. Fully Functional. May have very slight cosmetic defects.
You've come to the right place. Exclusive games take you on incredible journeys, from critically acclaimed indies to award-winning AAA hits.
The games you want. Play it on PlayStation
The biggest names of the gaming world come alive on PS4™, from the superstars of FIFA 19, to the much anticipated Read Dead Redemption 2.
Redefine your expectations of immersion in gaming with moments so intense your intuition takes over.
Discover a new world of unexpected gaming experiences with PlayStation®VR. Step into incredible virtual worlds and overcome new challenges in extraordinary ways.
Payment & Security
Your payment information is processed securely. We do not store credit card details nor have access to your credit card information.