Roll over image to zoom in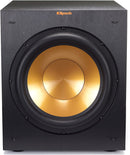 Free Shipping
30 DAYS TO RETURN OR EXCHANGE
AUTHORIZED DEALER
ORDERS BY 3PM EST SHIP TODAY
Amazon Qualifed Renewed Supplier
Description
Klipsch Reference Subwoofer R-12SW
The Reference R-12SW subwoofer uncovers what you've been missing in your music, movies and games -- clean chest-thumping bass. The high performance subwoofer provides deep bass and placement flexibility thanks to its front firing driver and all digital amplifier.

Features Include:
Powerful 12" copper-spun front-firing woofer
All-digital amplifier delivers 400 watts of dynamic power
Equally impressive with music and movies
Low pass crossover and phase control
Line/LFE inputs for compatibility with most receivers
Dimensions: 16" H x 14" W x 18.5" D
Brushed black polymer veneer cabinet
The R-12SW features a 12-inch copper-spun IMG driver that provides remarkably low frequency response with minimal cone breakup and distortion. The built-in all-digital amplifier delivers ample power with high efficiency and true-to-source accuracy in reproduction. The low pass crossover and phase control allows you to blend the subwoofer's low-frequency tones with other Klipsch speakers as well as establish the ideal level of bass.
The R-12SW is housed in a durable MDF cabinet and finished with a brushed black polymer veneer. The front-mounted LED power indicator lets you know when the system is powered on or off. You've been warned.
For more details see Kliscp R-12SW product sheet
Payment & Security
Your payment information is processed securely. We do not store credit card details nor have access to your credit card information.