Roll over image to zoom in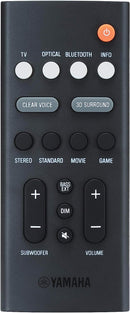 Free Shipping
30 DAYS TO RETURN OR EXCHANGE
AUTHORIZED DEALER
ORDERS BY 3PM EST SHIP TODAY
Amazon Qualifed Renewed Supplier
Description
The Yamaha SR-B20 is a compact soundbar that delivers immersive sound and a range of convenient features. Here are its key features:
Powerful sound: Despite its compact size, the SR-B20 delivers powerful and clear sound, enhancing your TV viewing experience and bringing movies, music, and games to life.
Built-in subwoofer: The soundbar includes a built-in subwoofer, providing deep and impactful bass for a more immersive audio experience.
Bluetooth connectivity: With Bluetooth connectivity, you can easily stream music wirelessly from your smartphone, tablet, or other Bluetooth-enabled devices, allowing you to enjoy your favorite music without any cables.
Clear Voice technology: The SR-B20 features Yamaha's Clear Voice technology, which enhances dialogues and ensures clear and intelligible voices, even during action-packed scenes or noisy environments.
Various sound modes: The soundbar offers different sound modes, such as Movie, Music, and Game modes, to optimize the audio for different content types and enhance your overall listening experience.
Easy setup: Setting up the SR-B20 is quick and hassle-free. With just a few simple connections, you can start enjoying high-quality sound in no time.
Wall-mountable design: The soundbar's slim and sleek design allows for easy placement either in front of your TV or mounted on the wall, complementing your home entertainment setup.
Remote control: The included remote control lets you adjust the volume, switch between sound modes, and control other settings from the comfort of your couch.
In summary, the Yamaha SR-B20 is a compact and feature-packed soundbar that delivers powerful sound and a range of convenient features. Whether you're watching movies, listening to music, or playing games, the SR-B20 enhances your audio experience with its built-in subwoofer, Bluetooth connectivity, and various sound modes. Its easy setup and wall-mountable design make it a versatile addition to any home entertainment setup. With the SR-B20, you can enjoy immersive sound and a seamless wireless audio streaming experience.
Payment & Security
Your payment information is processed securely. We do not store credit card details nor have access to your credit card information.