Roll over image to zoom in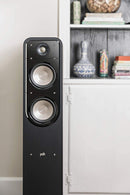 Free Shipping
30 DAYS TO RETURN OR EXCHANGE
AUTHORIZED DEALER
ORDERS BY 3PM EST SHIP TODAY
Amazon Qualifed Renewed Supplier
Description
Polk S50 FLOOR-STANDING TOWER SPEAKER
The Polk S50 Floor Standing Speaker is a powerful and versatile audio solution that delivers immersive sound and exceptional performance. Designed with precision and crafted for audio enthusiasts, it offers a range of features to enhance your listening experience. Here are some key features:
Dynamic Balance Technology: The Polk S50 utilizes Dynamic Balance technology to deliver clear, distortion-free audio across all frequencies. This technology ensures that the speaker reproduces sound accurately and faithfully, providing a balanced and immersive listening experience.

Dual 5.25" Woofers: With dual 5.25" woofers, the S50 produces deep and impactful bass, adding depth and richness to your audio. The woofers are designed to minimize distortion and deliver tight, well-defined low frequencies, making it ideal for both music and movies.

1" Terylene Tweeter: The speaker features a 1" Terylene tweeter that provides detailed and crisp high-frequency response. The tweeter offers excellent dispersion, allowing for a wide and spacious soundstage, bringing your favorite music and movies to life with clarity and precision.

MDF Cabinet Construction: The S50 is constructed with a high-quality MDF cabinet, which helps reduce resonance and unwanted vibrations. The sturdy construction enhances the speaker's overall performance by minimizing distortion, ensuring accurate sound reproduction.

Cascade Tapered Crossover: The speaker incorporates a cascade tapered crossover design, which seamlessly blends the audio output from the woofers and tweeter. This crossover technology ensures a smooth transition between frequencies, resulting in a cohesive and natural sound signature.

Bi-Amp and Bi-Wire Capable: The S50 offers bi-amp and bi-wire capabilities, allowing you to use separate amplifiers or wires for the woofers and tweeter. This feature enables more precise control over each driver, enhancing overall audio performance and giving you the flexibility to customize your setup.

Timeless Design: The Polk S50 features a sleek and timeless design that effortlessly complements any home decor. Its slim profile and elegant aesthetics make it an attractive addition to any living space, blending seamlessly with your existing audio setup.
The Polk S50 Floor Standing Speaker combines exceptional audio performance, advanced technologies, and an appealing design to create a captivating listening experience. With its dynamic balance technology, dual woofers, Terylene tweeter, and other features, it offers a well-rounded soundstage with precise imaging and powerful bass. Whether you're enjoying music, movies, or gaming, the S50 delivers immersive sound that will impress even the most discerning audio enthusiasts.
Payment & Security
Your payment information is processed securely. We do not store credit card details nor have access to your credit card information.