Roll over image to zoom in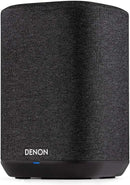 Free Shipping
30 DAYS TO RETURN OR EXCHANGE
AUTHORIZED DEALER
ORDERS BY 3PM EST SHIP TODAY
Amazon Qualifed Renewed Supplier
Description
The Denon Home 150 is a versatile wireless speaker that delivers exceptional audio quality and convenient smart features. Here are its key features:
High-Quality Sound: The Denon Home 150 produces rich and detailed sound, making it ideal for music enthusiasts.

Compact Design: Its compact and stylish design fits seamlessly into any room, whether on a shelf or tabletop.

Wireless Connectivity: Connect wirelessly to your devices via Wi-Fi, Bluetooth, Apple AirPlay 2, or Spotify Connect for easy streaming of music.

Voice Control: Compatible with Amazon Alexa, Google Assistant, and Siri for hands-free control and voice commands.

Multi-Room Audio: Create a multi-room audio setup by connecting multiple Denon Home speakers throughout your home.

HEOS Built-In: Denon's HEOS technology enables multi-room audio streaming and synchronization with other HEOS-compatible devices.

Internet Radio and Streaming Services: Access a wide range of music services like Spotify, Amazon Music, TIDAL, and more directly from the speaker.

High-Resolution Audio Support: Enjoy high-resolution audio playback for the best possible sound quality.

Customizable Sound: Fine-tune the sound with built-in EQ settings to suit your music preferences.

Physical Controls: Easily control playback, adjust volume, and switch tracks with the touch-sensitive buttons on top of the speaker.

Wired Connectivity: Includes an auxiliary input and USB port for connecting other audio sources.

Denon Home App: Control and customize your speaker settings via the Denon Home app on your smartphone or tablet.

Alarm and Timer Functions: Use the speaker as an alarm clock or set timers for various tasks.

Automatic Software Updates: The Denon Home 150 receives automatic firmware updates to ensure it stays up to date with the latest features and improvements.
The Denon Home 150 is a versatile and feature-packed wireless speaker that combines stylish design with high-quality audio performance. Whether you're streaming your favorite music, controlling it with your voice, or creating a multi-room audio setup, this speaker offers a seamless and enjoyable listening experience.
Payment & Security
Your payment information is processed securely. We do not store credit card details nor have access to your credit card information.