Roll over image to zoom in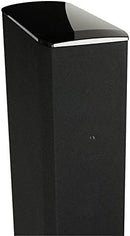 Free Shipping
30 DAYS TO RETURN OR EXCHANGE
AUTHORIZED DEALER
ORDERS BY 3PM EST SHIP TODAY
Amazon Qualifed Renewed Supplier
Description
Definitive Technology BP-9080x Bipolar Tower Speaker (EACH)
The Definitive Technology BP-9080x Bipolar Tower Speaker is a high-performance audio speaker designed to deliver immersive and crystal-clear sound quality. Here are its key features:
Bipolar Speaker Design: The BP-9080x utilizes a bipolar speaker configuration, which means it has drivers on both the front and rear panels. This design creates a spacious and enveloping soundstage, ideal for home theater and music listening.

Integrated Subwoofer: Each tower speaker comes with an integrated 12-inch powered subwoofer. This subwoofer provides deep, impactful bass without the need for a separate subwoofer unit.

Aluminum Dome Tweeters: The speaker features high-definition aluminum dome tweeters for precise and detailed high-frequency sound reproduction.

Midrange Drivers: High-performance midrange drivers ensure clear and balanced vocals and instrumentals.

Intelligent Bass Control: The BP-9080x includes an Intelligent Bass Control that allows you to adjust bass levels to suit your room's acoustics and personal preferences.

Aluminum Top Plate: The top panel of the speaker features an aluminum plate that adds elegance and rigidity to the design.

Dolby Atmos and DTS:X Compatible: These speakers are designed to work seamlessly in Dolby Atmos and DTS:X setups, providing overhead sound for a truly immersive home theater experience.

Aluminum Cone Woofers: The aluminum cone woofers are lightweight yet rigid, providing excellent bass response and minimizing distortion.

Perfect for Home Theater: With their bipolar design and built-in subwoofers, these speakers are perfect for creating a cinematic experience in your home theater setup.

High-Quality Construction: Definitive Technology is known for its attention to build quality and craftsmanship, ensuring that these speakers are built to last.

Bi-Amping/Bi-Wiring Capability: For advanced users, these speakers support bi-amping or bi-wiring configurations to fine-tune your audio setup.
The Definitive Technology BP-9080x Bipolar Tower Speaker is a top-of-the-line choice for audiophiles and home theater enthusiasts who demand exceptional sound quality and a truly immersive audio experience. Whether you're watching movies or listening to music, these speakers deliver outstanding performance and clarity.
Payment & Security
Your payment information is processed securely. We do not store credit card details nor have access to your credit card information.